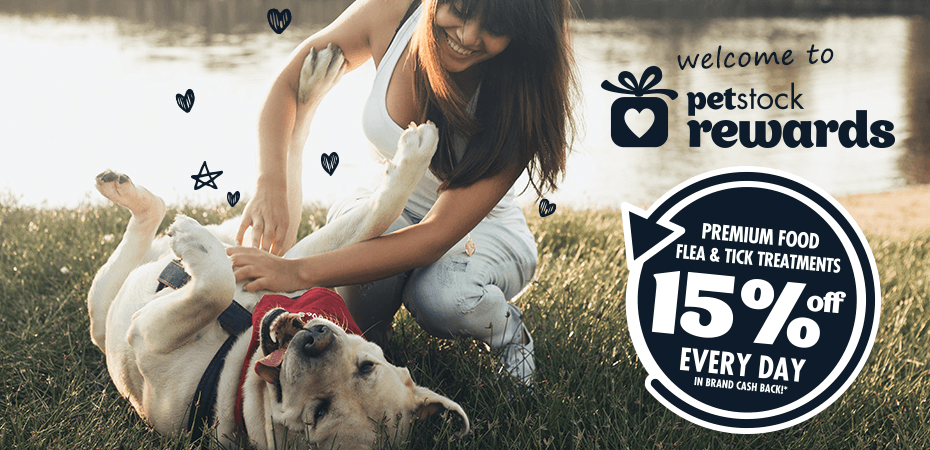 Welcome to petstock Rewards!
No complicated points system
Earn 15% Brand Cash
Earn PETstock Dollars on thousands of products and services
Earn up to triple PETstock Dollars on grooming and training
Great up front benefits your Buddy will love
It's easy to earn Rewards:
PETstock Dollars
As a PETstock Rewards Member, you'll earn $10 in PETstock Dollars for every $500 spent on thousands of products and services. Use them on anything you like, at any time you like. Look out for member only offers and opportunities to earn double or triple dollars!
Brand Cash
We want to reward you for taking such great care of your buddy. If you purchase any participating brand of premium food or flea, tick and worming treatment we'll give you 15% Brand Cash back! Use this brand cash next time you shop the same brand on cat or dog products, wet or dry food, even when the product is on promotion – as long as it's the same brand.
Here's how it works:
Every time you purchase one of the participating premium foods, we'll give you 15% back in Brand Cash to spend on the same brand next time you shop with us.
The 15% is worked out on the price the item scans for – meaning we will reward you at the full price, not the price you pay after redeeming any Brand Cash, giving you even greater rewards. You can also redeem Brand Cash and earn Brand Cash in the one transition!
You have three months to spend your premium food Brand Cash. Flea, tick and worming treatment Brand Cash expires three months after the month in which it was earned for three packs or six months after the month it was earned for six packs.